Discover our culinary workshops program offered in high schools as an extracurricular activity.
---
A structured program that has proven itself!
The Kitchen Brigades is an extra-curricular programme offered in high schools, which reaches young people aged from 12 to 17 through workshops on basic cooking techniques and healthy eating habits.
The Kitchen Brigades are present in 175 schools in Quebec and more than 20 others everywhere in Canada!
The evaluation shows it: the Kitchen Brigades are an incredible opportunity for the youth to learn to cook, while also thriving and developing as responsible citizens!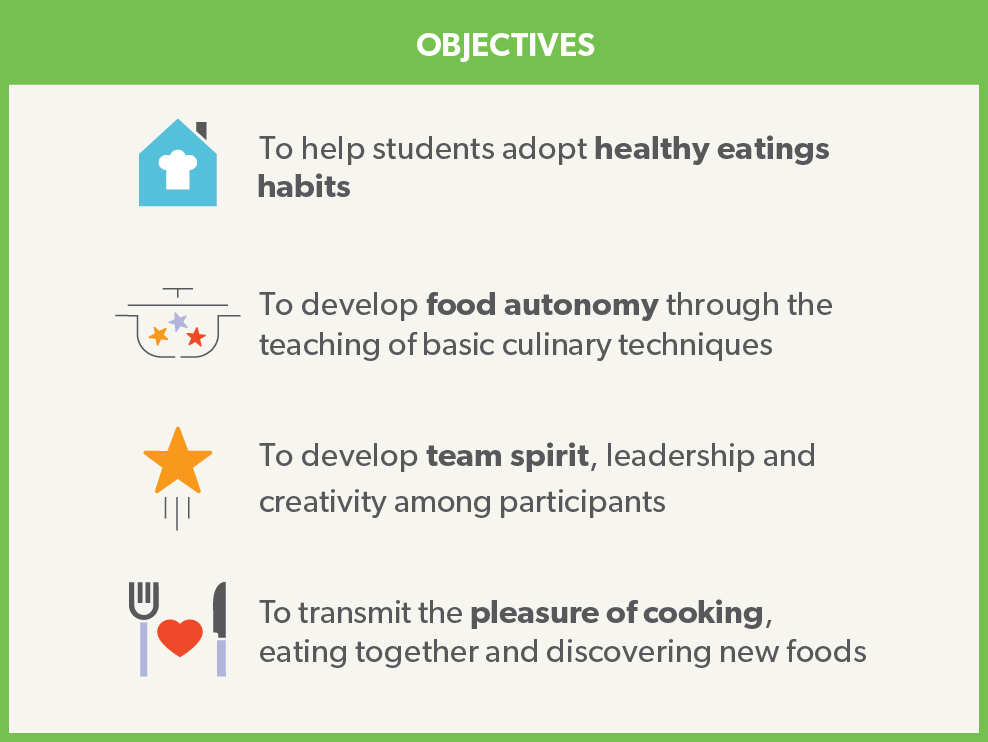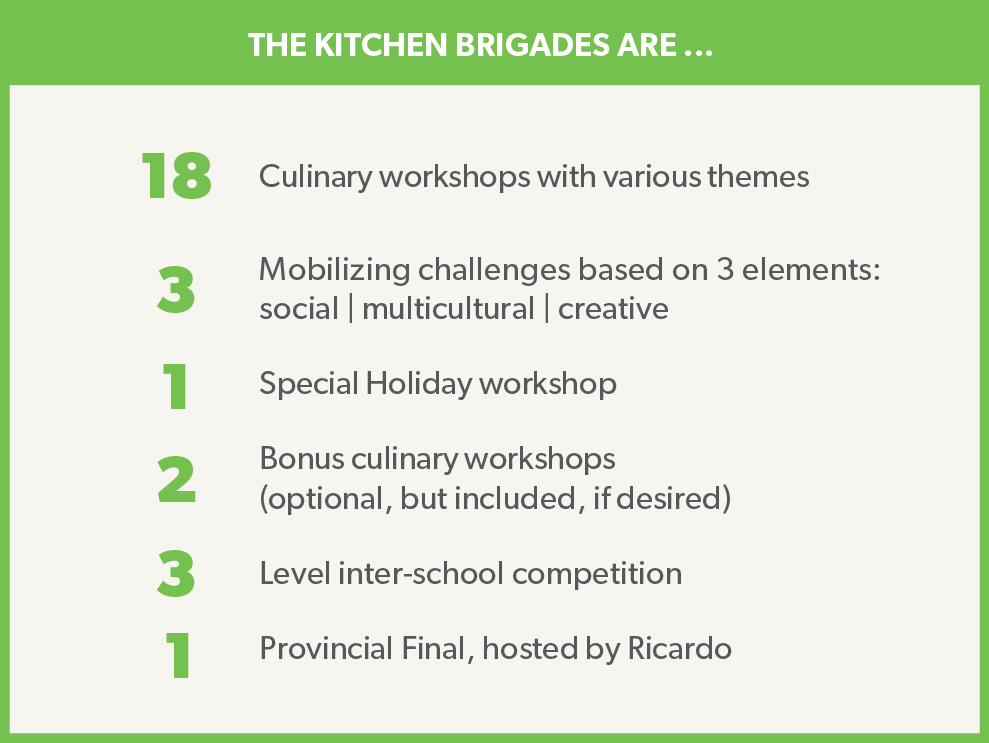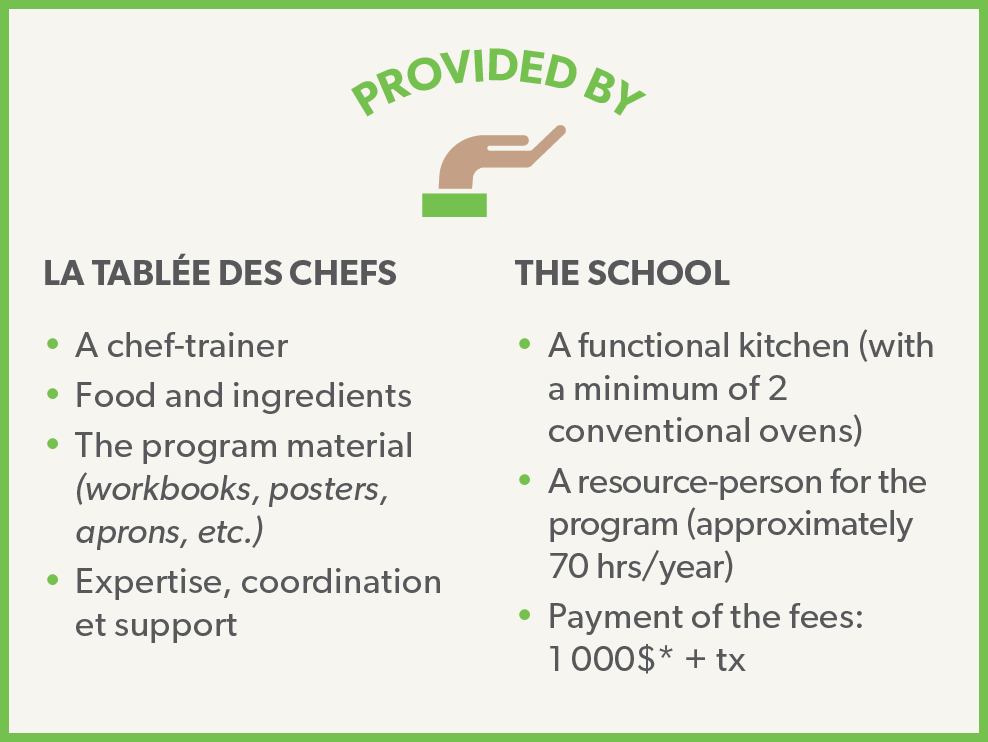 Thanks to our bountiful partners, the Kitchen Brigades program is offered at low cost! 
The group of 16 to 25 students who follow the program throughout the year benefit from almost 40 hours of practical training in cooking and healthy eating! They acquire knowledge and skills that will be useful to them all their lives!
Depending on your region, download the Kitchen Brigades' presentation documentation:
Follow us on Facebook and Instagram!
To submit your school's application for the program, please visit our web portal.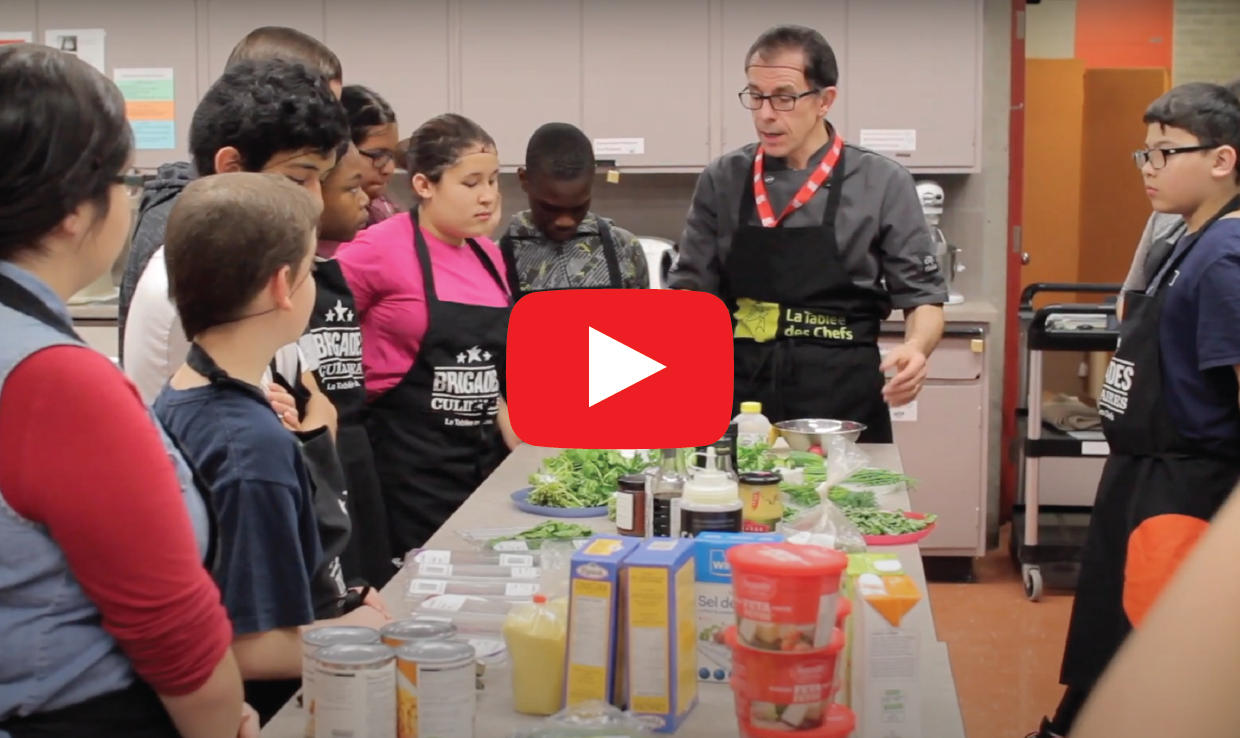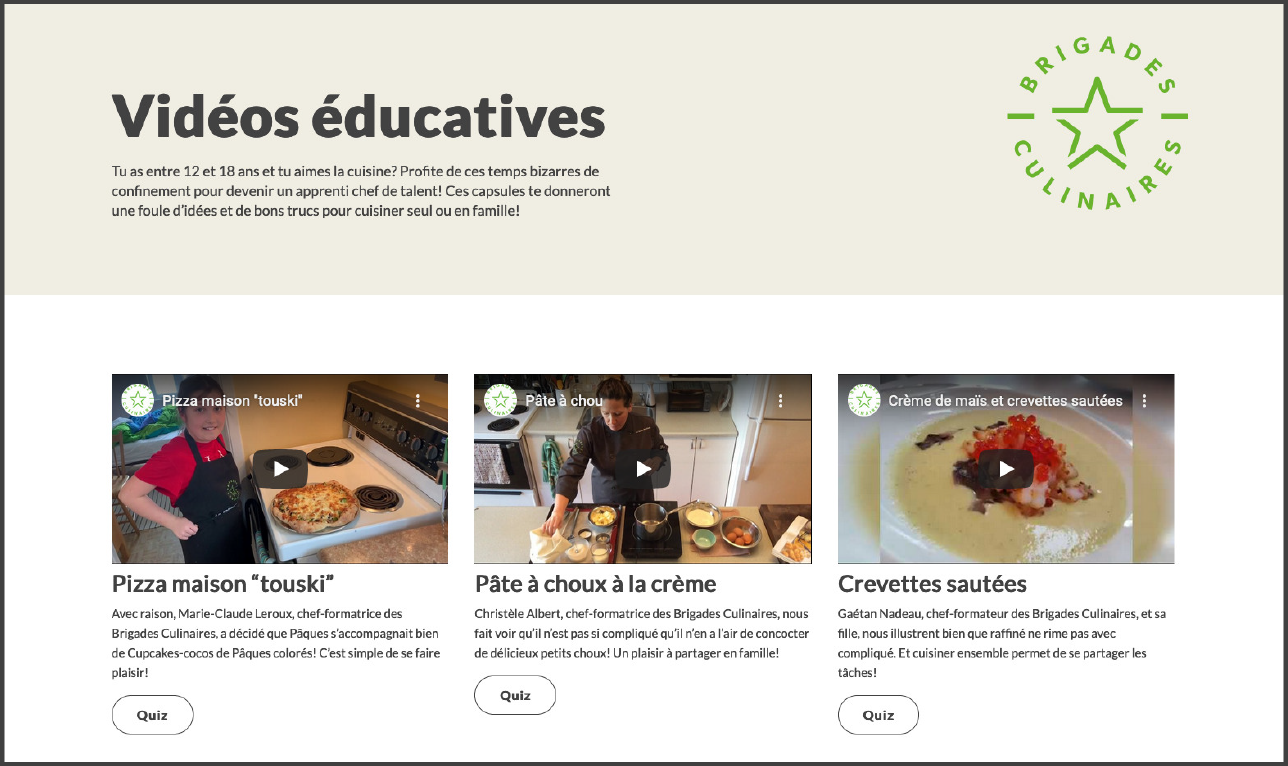 A whole page with educational videos and quizzes to complement the Kitchen Brigades!
You like cooking?
During the lockdown related to COVID-19, La Tablée des Chefs has created a new page to learn to cook at home! Our chef trainers are featured in a variety of educational videos. Also have fun with our quizzes! (sorry, this page is in French only for now!)
Learn to cook (Français seulement)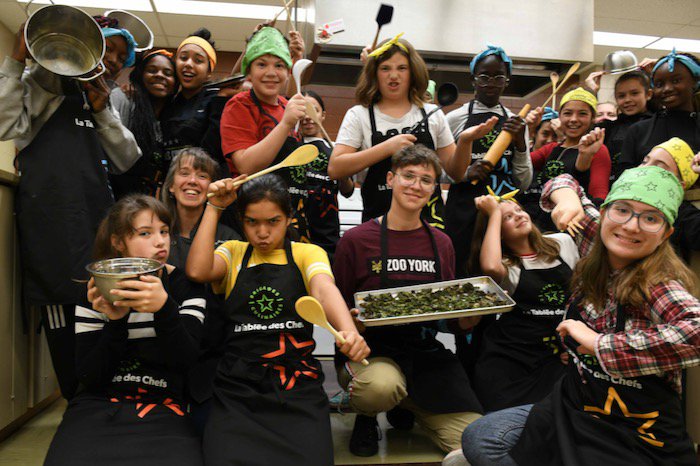 Inter-school Competition
In Quebec, the Kitchen Brigades workshops end each year with an inter-school competition. After the ⅛, ¼ and ½ finals, the best regional brigades in the province go head-to-head in the spring grand finale hosted by Ricardo Larrivée. The jury, made up of top chefs and members of the industry, assesses the creations of the brigades and crowns the winning school while providing constructive feedback to all participants.
In 2019, the provincial final took place at the ITHQ, and it was the Delta de Matagami school, in the Nord-du-Québec region, that took home the honors!
Provincial finale video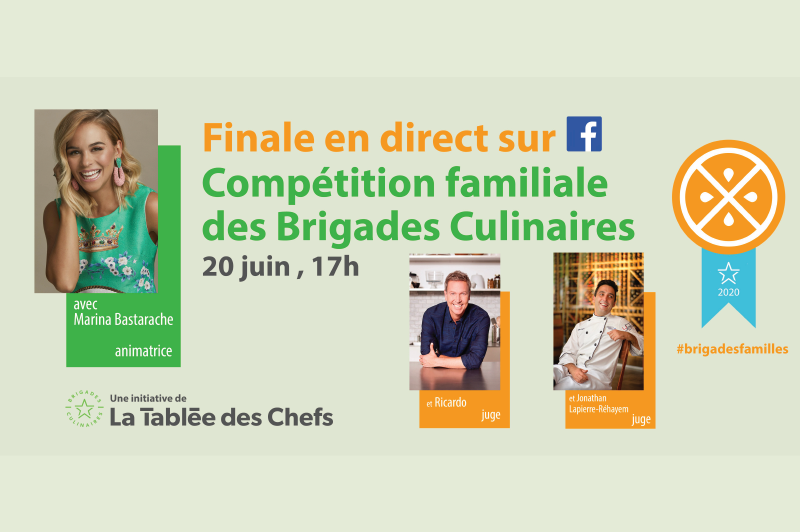 The Kitchen Brigades Family Competition
In 2020, the program was interrupted by the closure of schools linked to the Covid-19 pandemic. The competitions therefore did not take place. La Tablée des Chefs has been creative by setting up a special edition: the Kitchen Brigades Family Competition. This great contest ended with a virtual final live on Facebook, hosted by Marina Bastarache. Four families clashed there, under the gaze and analysis of chefs Ricardo and Jonathan Lapierre-Réhayem. (See list of 2020 Winners)
Virtual Final Video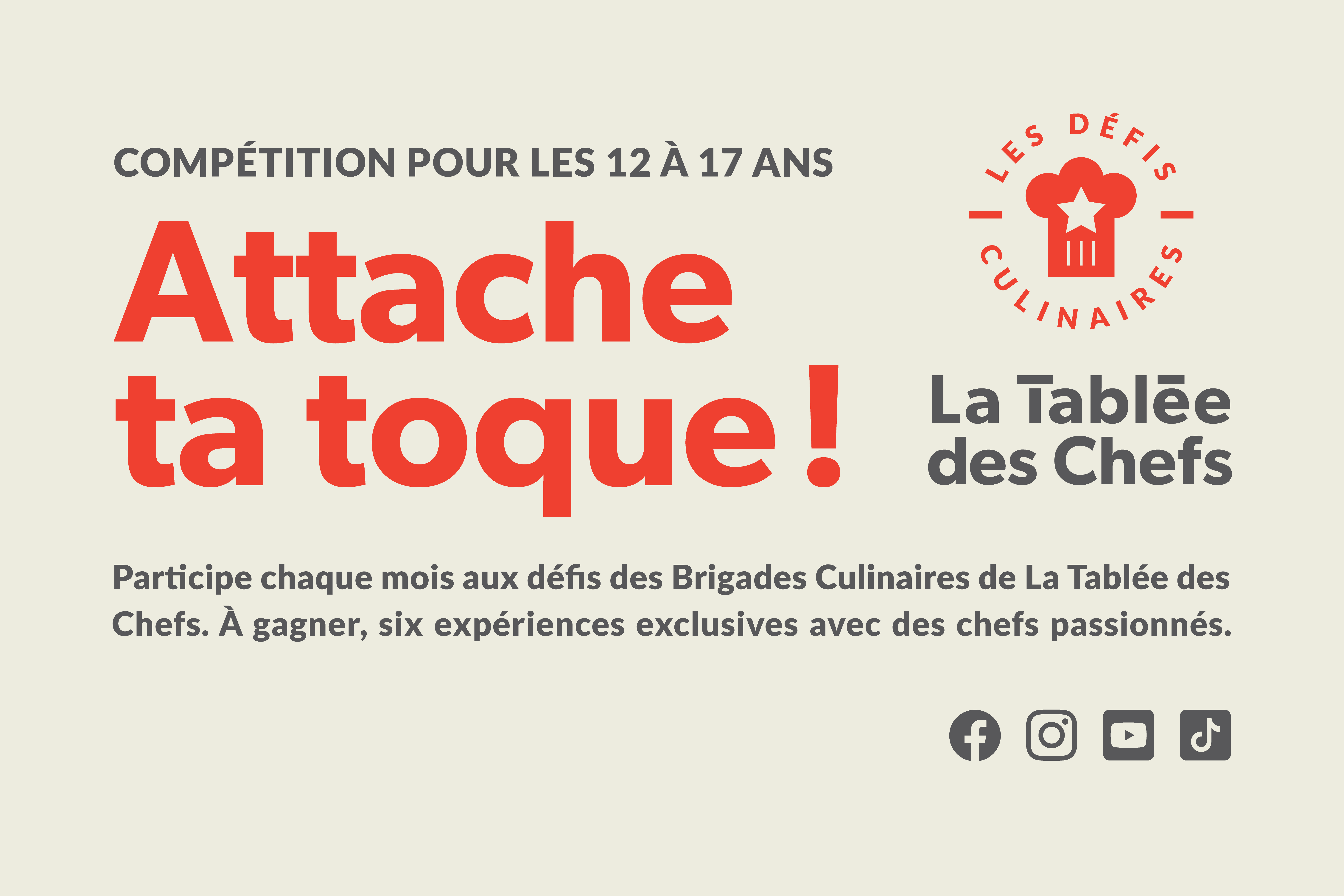 Attache ta Toque!
The culinary challenges, a new challenge every month.
Learn more and participate